Breakthrough: Joey has learned to READ due to RPM practice!!!
Roberta:  I am so excited to report an amazing development. We learned today from Joey's teacher Matthew, that he can read. I don't think I can convey the story any better than the email from Matthew himself . . .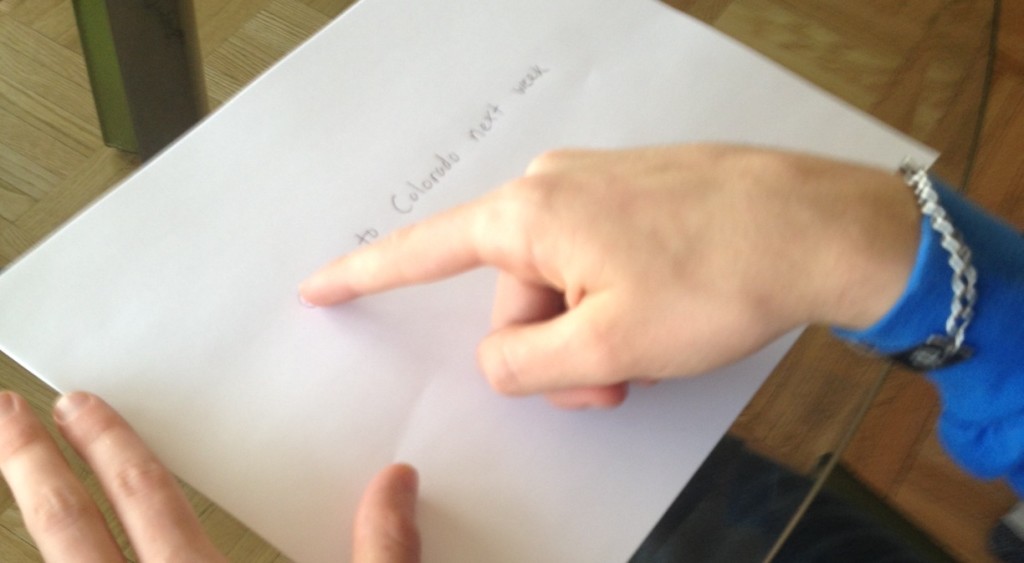 From: matthew kennedy
Date: December 4, 2012, 6:09:20 PM EST
To: Roberta Lowenstein , matthew kennedy
Subject: Math and Reading Class,

So, Tuesday mornings are my long morning at school with Joey. We have an RPM lesson between 8:30-9:30am, then I take Joey to Math, Art Farm, Movement, and Reading, and we make use of the letter board so Joey can participate in these activities with his class. Below are a few notes from the math and reading lesson. Of significance here is the fact that it looks like Joey has the ability to read a lot better than anyone has previously suspected, or given him credit for. We also tested his ability to read again after school at home, which I will also include here.

To be more specific, Joey did not read words/sentences/paragraphs and answer questions verbally, but using the letter board he did answer questions about what he read perfectly accurately. I had Joey scan words and sentences with his finger and then write down what he had written. I also had him scan a paragraph word by word with his finger and then asked him a question about the paragraph, which he got right.
(Roberta: During this exercise, at no time did Matthew read the words to Joey.  Joey's scanning with his pointer finger was done in silence).
During the math lesson (with the class), I explained to Joey how to read an X,Y axis graph. It had temperature on the vertical (Y) axis, and number of days on the horizontal (X) axis. I saw that the first question was asking what the title is, so I purposefully did not read that info out loud to Joey. I had him scan and focus on all of the relevant information with his finger.

I got the idea to try this the other day when Joey was being given a math assessment by Andra, and he was able to differential the different values of various strings of numbers, including decimals. For the numbers below, we used the number board. For the answer written as 0-80, Joey wrote on the board 080. Joey answered all of the answers correctly.
1) What is the title of the graph?
JOEY: TEMPERATURES IN NEW YORK CITY
2) What is the range of values on the horizontal scale? J: 1-6
3) What is the range of values on the vertical scale? J: 0-80
4) How many points on the graph? J: 6
5) what was the lowest temp recorded? J: 43
6) Highest temp recorded? J: 67
7) At what point did the temp dip?  J: BETWEEN THE SECOND AND THIRD DAY.
I told Joey even less about the second graph, again, I did not read aloud to him any of the words or data in the graph.
1) What is the line graph about? J: SMALL TOWN TEENS WITH CELL PHONES (this is exactly what the title of the graph read)
2) At what age do teens have the greatest number of cell phones? J: 19
3)At what age do they have the least number of cell phones? J: 13
4) How many cell phones do 15 year olds have? J: 341
5) How many cell phones do 16 year olds have? J: 430
6) What was the greatest number of cell phones at any age? J: 642
7) What was the least number of cell phones at any age? J: 239
J: YOU KNOW THIS IS TOO EASY FOR ME
During Reading, I had Joey read words and paragraphs and then answer questions based on what he read. Again, he would scan words/sentences/paragraphs word by word. We were participating in a group discussion, where based on what the students, including Joey read, they would give answers. The first paragraph mentioned Greek Gods, with a larger drawn picture of Zeus and Prometheus. The teacher asked who the god in the picture were? The other students, who are verbal, didn't answer correctly. Joey answered…
J: ZEUS AND PROMETHEUS
YOU KNOW THIS IS TOO EAST FOR ME. IM TOO SMART AT READING FOR THIS CRAP.
In the story the main character was getting frustrated. The question posed to the students was, what makes you frustrated?
J: THIS STUPID STORY ITS TOO EASY.
Then I had Joey scan an entire paragraph, and asked him to tell me what was going on in the paragraph. To tell me about what he read. There were no additional auditory or visual clues to help Joey answer correctly. He answered completely accurately, using words of his own. In the story Percy's best friend Grover was talking to Mr. Brunner and they were worried about Percy's life. Percy overheard them speaking.
J: GROVER AND MR BRUNNER WORRIED HE WOULD DIE.
At home, with Roberta and Richie there to see, I wrote on a blank piece of paper "MOM IS SO COOL" and asked Joey to read it, which he did (to himself), while pointing to the words, then I asked him to write on the letter board what he had just read.
J: MOM IS SO COOL
Then, Roberta wrote underneath
MOZART WAS BORN IN AUSTRIA (UPPERCASE) Joe again read in silence and spelled on the letter board:
J: MOZART WAS BORN IN AUSTRIA
Then Roberta tested Joey reading upper and lower case letters like you would read in a book…..
"Richie is going to work out." On the letter board Joey wrote out…
J: RICHIE IS GOING TO WORK OUT
—————————-
Roberta:  We are all "floored" and flabbergasted with this MONUMENTAL, and pivotal change……
I'm wondering with the amount of RPM we have been doing, plus the Transcendental Meditation, plus working out, plus I don't know what…… has lead to this????  
Here is what Joey had to say about all of this:
WONDERFUL PEOPLE IN MY LIFE, PLEASE LISTEN UP.
LEARNING TO READ WONDERFUL WORDS TOOK SOME TIME.
KNOWLEDGE IS THE BEST LOTTERY TICKET ANYONE COULD EVER HAVE.
WITHOUT INTO RPM, NONE OF THIS WOULD HAVE BEEN POSSIBLE.
WITHOUT THE WONDERFUL QUESTIONS OF AWESOME TEACHERS, I
MIGHT NOT HAVE KNOWN I POSSESSED THE ABILITY TO READ EITHER.