JL Foundation Launches During Breakfast Event at Seagate Hotel Featuring RPM Method
On April 7, 2013, the JL Foundation hosted its first event as a foundation to launch to the world its vision to reach beyond the diagnosis of autism, and enrich the lives of those affected by helping them to realize, reveal and communicate their own unspoken gifts.
Over 50 friends of the Foundation attended the breakfast meeting at the Seagate Hotel in Delray Beach, Florida to learn more about Joey Lowenstein and the mission of the JL Foundation.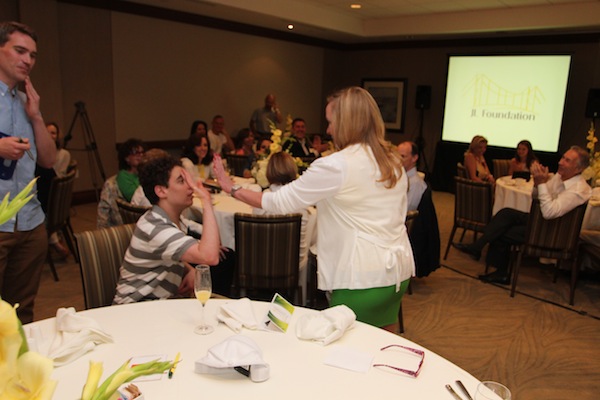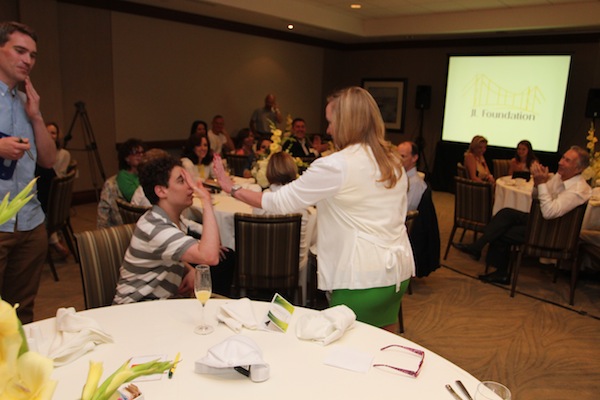 Because one of the core purposes of the Foundation is to teach those with autism how to communicate through methods like the Rapid Prompting Method ("RPM"), using a letter board, among others, one of the highlights of the breakfast was Joey's live Q & A which allowed him to demonstrate his own success with RPM, one of the core teaching methods that the foundation is supporting.
The breakfast also included two feature videos produced by the Foundation's team that introduced the story of Joey Lowenstein ("My Name is Joey, and I Have Autism") and told the story of how the Foundation seeks to make a difference in the lives of those affected by autism ("Bridging the Gap").
The JL Foundation's Bridging the Gap video provided a visual representation of the Foundation's mission, which is summarized in the acronym "ANSRS." That acronym is short for Athletics, Nutrition, Self-Development, RPM and Seizure Research.
Joey's experiences with his own autism and finding ways to overcome its challenges have led to his passion for snowboarding and other sports as well as a focus on better nutrition, ways to improve, better communicate and avoid seizures. As part of his own-self development, Joey and his mother meditate every morning utilizing Transcendental Meditation(TM) as taught by the David Lynch Foundation, another cause the Foundation supports. Joey's vision is to help support the application of all five of these areas to the lives of other people with autism who need help in these areas, but don't have the financial support to access that help.
Videos from the breakfast describing this in more detail can be viewed here: http://joeylowensteinfoundation.org and here:  http://joeylowensteinfoundation.org/donate/
During the breakfast, after fielding questions from those in attendance, Joey answered questions with the help of his letter board and his teacher, Matthew Kennedy, who is trained in RPM and has been working with Joey to assist him in communicating through this method. Here are some of the questions posed, and Joey's responses:
Audience:
Why do you want to help other people find their voice?
Joey:
MOSTLY, I NEED TO HELP PEOPLE WHO NEED TO FIND A VOICE.
Audience:
Where is your favorite place to be?
Joey:
I LOVE FLORIDA BUT COLORADO RULES!
Audience:
What advice would you like to give someone who works with children with autism to help them become more effective?
Joey:
TEACHING RPM IS THE BEST THING IN THE WORLD FOR THE NON-VERBAL ONES.
Audience:
Are you a Miami Heat fan or do you like the New York Knicks?
Joey:
KNOW THIS: I'M NOT A REAL JOCK TYPE
Audience:
Are there any people that inspire you?
"AVERAGE JOEY KNOWS HIS MOM WORKS SO HARD."
Audience:
If you were to start a business, what would it be?
"FROM NOW UNTIL ETERNITY, I WILL HELP SPREAD INTO RPM"
Matthew Kennedy:
Joey, what else would you like to tell everyone?
LOVE THE ONES YOU SPEND THE MOST TIME WITH
Although the breakfast event was scheduled more as an introduction to the foundation than a fundraiser, many of those in attendance donated generously to the foundation's mission and will help Joey and the foundation to train other teachers how to use this extremely effective method of communication as well as teach other children how to communicate through RPM.
To donate, please click on the donate button above.